Worship-A-Thon, Sat 23 April
Worship-A-Thon on Saturday 23 April, 10 am – 12 noon and 2 pm – 10 pm at St Stephen's Church (Belle Vue Rd, Cinderford, GL14 2AA).
(Singing will continue during 12 noon – 2 pm, but not in church as there is another service taking place).
Most of the time in church will be open for people to join in with worship, at some times there will be people performing. The Belle Vue Singers will be singing between 2 and 3 pm.

If you would like to sit and listen, or indeed join in with worshipping, please do pop along to St Stephen's between 10 am – 12 noon and / or 2 pm – 10 pm.
If you would like to sponsor the event, all money raised will go to Ukrainians currently living in Poland that the church family are trying to support.
You can donate in person, or online: https://givealittle.co/campaigns/e3150354-40a5-4f6c-9139-5e2f759ebee0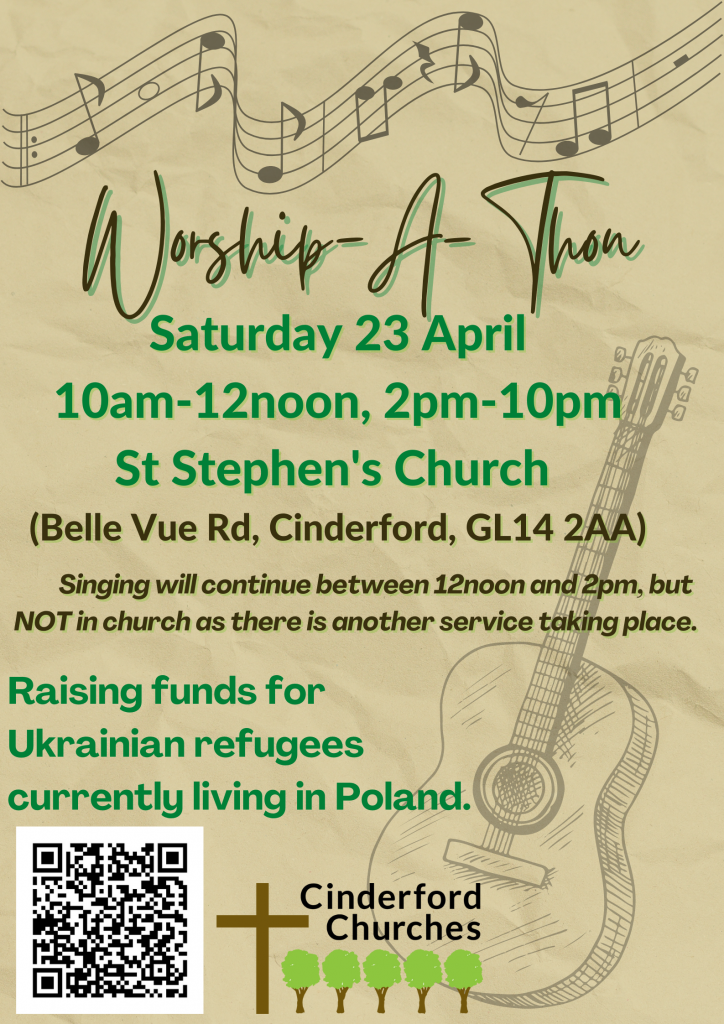 [Image description: poster with a beige background with music stave and notes across the top and a line drawing of an acoustic guitar at the bottom, plus information about the Worship-A-Thon as detailed above, a QR code linking to the giving page and the Cinderford Churches logo]